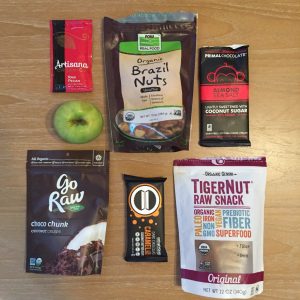 Nutritionist Approved Snacks for On-the-Run
It's not easy to find snacks that DON'T contain refined sugars and DO contain whole ingredients. Below are my go-to snacks– all of which contain less than 6 organic ingredients– for when you're on the run. 
Choco Chunk Coconut Crisps – These dehydrated coconut chips have healthy fat and fiber to keep you satiated in between meetings or running errands. They are lightly sweetened with coconut nectar and perfectly crunchy. Since these coconut chips are dehydrated instead of cooked, the nutrients (like manganese, important for strong bones) from the raw coconut are available to you! You can tell the difference when eating a baked or dehydrated chip– the dehydrated chips are more fibrous and filling. 
Dark Chocolate Almond Sea Salt Bar – I'm always looking for a chocolate bar without refined sugar. I've been enjoying Eating Evolved's Almond Sea Salt bar, which is lightly sweetened with coconut sugar. I like this particular bar because it is perfectly dark at 72% cacao and the almonds provide texture and protein. Side note: this company makes baking chocolate too!
Primal Kitchen Bars – These bars are made with grass-fed collagen— hello healthy skin, hair, nails and GI tract! Collagen is the most abundant amino acid in the body and is essential for growth and repair. These bars are chewy and come in different flavors. My favorites are the Coconut Cashew and the Chocolate Hazelnut. 
Tiger Nuts – If you're a patient of the practice, we have most likely talked to you about prebiotic fiber. Tiger Nuts are where it's at! Incase you forgot, prebiotic foods contain resistant starch, which feed the probiotics that we're all trying to build. Contrary to the name, a tiger nut is actually a root vegetable (not a nut)– perfect for those with nut allergies. 
Brazil nuts – 1-3 Brazil nuts are the perfect snack for in-between meals. They are larger and more filling than almonds or cashews and have a nice buttery flavor. To boot, Brazil nuts are a cancer flighting food. They contain the mineral Selenium, which studies show reduces inflammation. Just a couple Brazil nuts daily will give you the recommended dose of selenium to improve your immune response. Research has also shown that Selenium may reduce toxic levels of mercury. 
Coconut Buttercups – This buttercup is a spin on your old school Reese's Pieces (minus the chemicals and preservatives) and contains just 6 organic ingredients: coconut, cacao, cacao butter, coconut sugar, Himalayan sea salt— boom! They contain fat and fiber and are sweetened with coconut sugar so your blood sugar won't go on a rollercoaster. They make flavors like Carmel, Coconut, Mint, Strawberry, and Chocolate. 
Green apple with Raw Pecan Butter – Artisana makes perfect little packets of nut butters for snacks on the run. I recommend a tart green apple or pear, both low glycemic fruits that are relatively high in fiber. Adding the pecan butter gives you the missing piece— protein! Almonds seem to be in everything right now so pecan butter is a nice change.