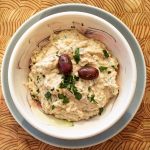 I like making a couple sauces or dips in the beginning of the week so I have something to give my quickly prepared meals some umpf! This week I made a parsley-kalamata flavored hummus. I just used what I had available in my fridge from the farmer's market the week before. Today I'll mix this into a big green salad with some avocado, radish, carrots and pine nuts. You can also pair this with gluten free crackers (I love Mary's Gone Crackers), vegetables or flavor your meat with a dollop!
Ingredients
1.5 cups cooked chickpeas, I like to soak mine overnight and then cook them the next morning  (canned works too)
3 tablespoons olive oil
4 tablespoons boiling water
1/2 tablespoon tahini
1/4 teaspoon salt
1/4 cup pitted kalamata olives
2 tablespoons finely chopped parsley
1 garlic, chopped
Method
In a Vitamix or food processor, blend chickpeas, olive oil and boiling water. Finely chop parsley, olives and garlic and add to chickpea mix in the blender. Add tahini. Blend until you have reached your desired smoothness and enjoy! 
Let me know if you try it out! I would love to hear how you mix it into your snacks and meals.
Have a great week!